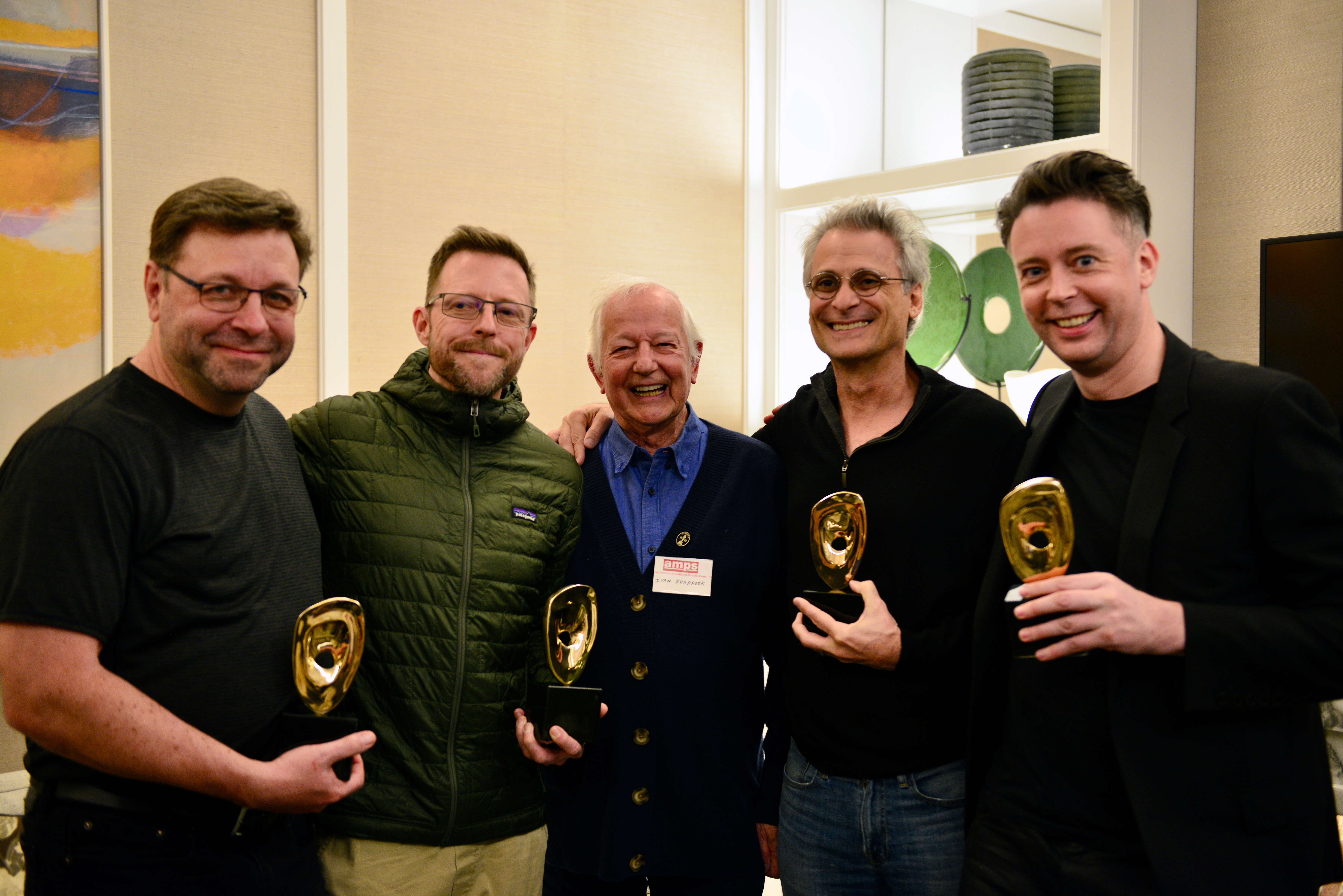 Ron Bartlett, Mac Ruth, Ivan Sharrock
Mark Mangini and Theo Green
NEWS SEARCH
Search all news articles...
NEWS
Some news items are only available to logged in Members.
---
Media Production & Technology Show 2023
Wednesday, 10th May 2023
AMPS will be hosting a stand at the 2023 Media Production & Technology Show which will take place at Olympia London on 10-11 May. Save the date – we hope to see you there! Registration is free at https://www.mediaproductionshow.com/registration
Launched in 2016, MPTS has rapidly cemented its position as the UK's largest and must-attend event for the media and broadcast industries. Originally focused on the creative side of content production, the event has now evolved to explore the technological innovations which power the enviable content production output in the UK today. The 2023 event will feature over 300 exhibitors showcasing their products and services, allowing attendees to get hands on with the latest kit and tech innovations. Renowned for the quality of its content and speakers, the seminar programme, which is free to attend, brings together 300+ speakers across 6 theatres covering production, audio, post, technology and virtual production. The keynote theatre is known for its leading industry headline speakers and this year is no exception, with British Screenwriter and Film Director Steven Knight CBE opening the event. The creator/writer of Peaky Blinders will discuss some of his career highlights to date and talk about his passion for bringing more productions into the West Midlands through his new film and TV Studio, Digbeth Loc. Other highlights include Ross Kemp (Eastenders, Ultimate Force), Allan Niblo (Monsters, A Town Called Malice), Danielle Ward (Brassic), Broadcaster and Podcaster Jackie Adedeji, Channel 5 News Presenter Dan Walker and ex-head of Amazon Studios UK Georgia Brown. Key themes running throughout the programme are next generational talent and how to ensure the sector attracts young people as they start their careers; the huge growth of Virtual Production, what it is and how to determine if is it right for your next production; improving diversity and sustainability within the industry; the innovative technologies you can't afford to ignore, and much more!
Taking place in the heart of the UK's content creation industry and bringing together 10,000 executives from across the broadcasting landscape, MPTS 2023 promises to be an unmissable two days.