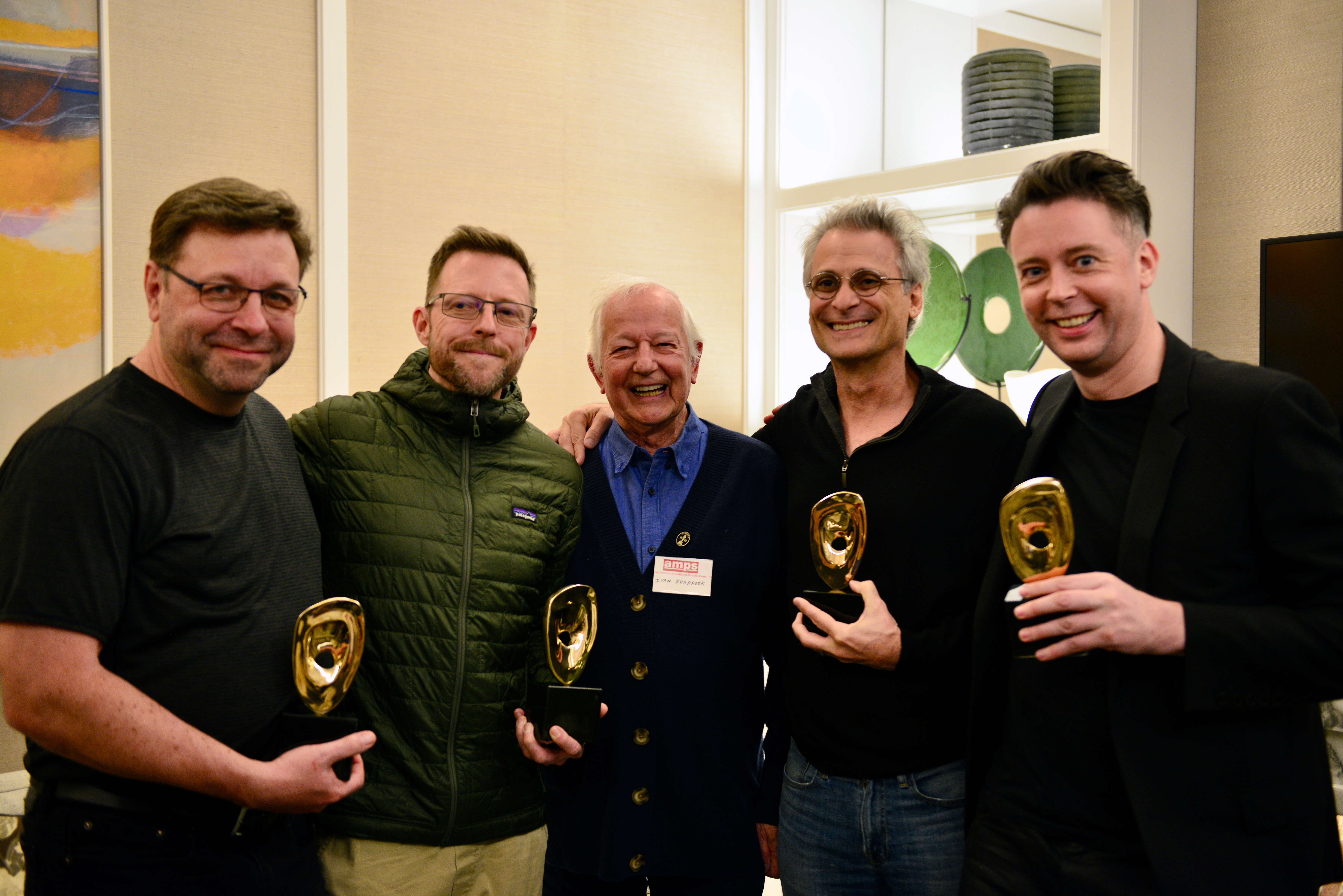 Ron Bartlett, Mac Ruth, Ivan Sharrock
Mark Mangini and Theo Green
NEWS SEARCH
Search all news articles...
NEWS
Some news items are only available to logged in Members.
---
Amps Award for Excellence in Sound Winners Presentation
Friday, 11th March 2022
AMPS is proud to present the AMPS Award for Excellence in Sound for Feature Film - 2022 to "Dune." In a reception at the Corinthia Hotel, London on Friday 11th March, AMPS Chair Andrew Wilson presented trophies to winners Mac Ruth, Mark Mangini, Theo Green and Ron Bartlett. The team also accepted the trophies for of György Mihályi and Doug Hemphill. Attending on behalf of AMPS were Council members Jo Andrews, Enos Desjardins, Owen Peters and Rosanna Prada, as well as AMPS Fellow Ivan Sharrock.
Warner Brothers very kindly provided a reception room for the presentation, which was an informal and lively gathering. The winners were delighted with the trophies, and expressed their gratitude at being recognised for the award voted solely by their peers. They were also keen to thank AMPS for uniquely recognising the contribution of the First Assistant Sound to the soundtrack; Production Sound Mixer Mac Ruth (collecting his second AMPS Film Sound Award) said "recognising the Boom Operator means so much to the team - I've worked with György for 20 years and this award will mean so much to him.
Conversation flowed, and following the presentation and photos, the team were kind enough to give us some additional time for an interview which will be made available shortly as an AMPS Podcast.
Just two days later "Dune" was also announced as the winner of the 2022 BAFTA Film Sound Award. AMPS members are uniquely qualified to recognise film sound talent, and the Association is delighted that once again the AMPS award has proved a strong indicator for other awards.
AMPS Awards are sponsored by:
Dolby Laboratories
Pinewood Group
Sennheiser
Twickenham Film Studios