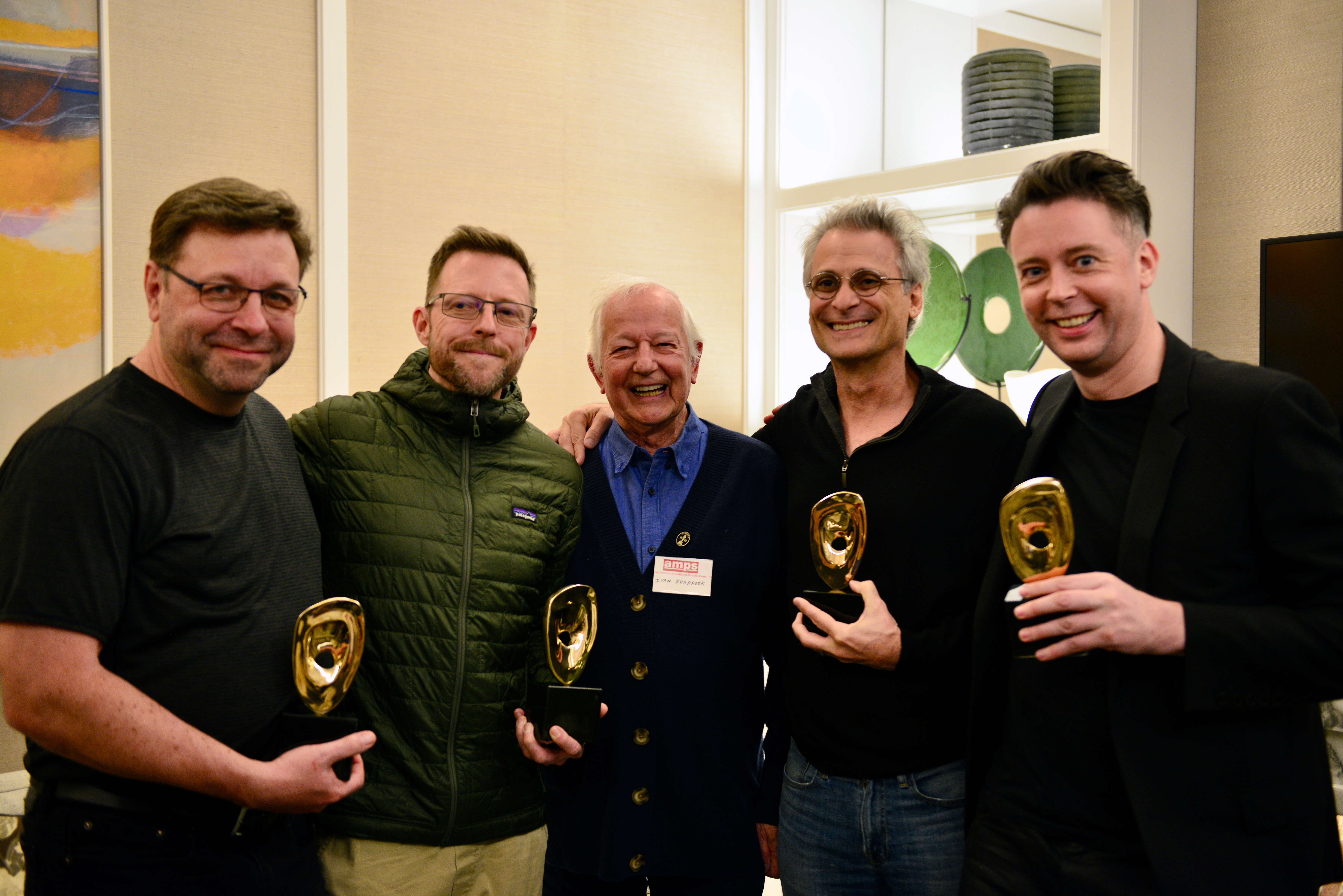 Ron Bartlett, Mac Ruth, Ivan Sharrock
Mark Mangini and Theo Green
NEWS SEARCH
Search all news articles...
NEWS
Some news items are only available to logged in Members.
---
Bursary Announcement
Thursday, 5th October 2017
2017 AMPS Scholarship Recipient Announced
The Association of Motion Picture Sound (AMPS) has awarded its annual scholarship to support a student enrolled on the Production Sound for Film and Television Diploma at the NFTS to Chanitra Limpiroj.
The scholarship was presented to Chanitra by Paul Davies, AMPS chairman and Jon Wardle, NFTS director.
Clive Derbyshire, AMPS Honorary Treasurer and NFTS Production Sound Tutor was also in attendance.
Paul Davies, AMPS Chairman said: "We are incredibly pleased to announce our second NFTS Production Sound Diploma scholarship recipient. This course is the only one of its kind to focus entirely on production sound recording and embodies what AMPS is all about. Our objective is to bring lively new blood to the industry and introduce students to the world of professional filmmaking. Chanitra is a worthy recipient and we look forward to seeing her progress over the next year."
Chanitra said: ""I feel so honoured and grateful to have received support from AMPS, which will help push me further towards my career goal. During my Sound Design masters, I was roped into working as a sound recordist for one shoot with no prior experience and I haven't looked back since, which is exactly why I'm here! Thank you AMPS!"
For more information on the Production Sound for Film and Television Diploma, please visit https://nfts.co.uk/our-courses/diploma/production-sound-film-television