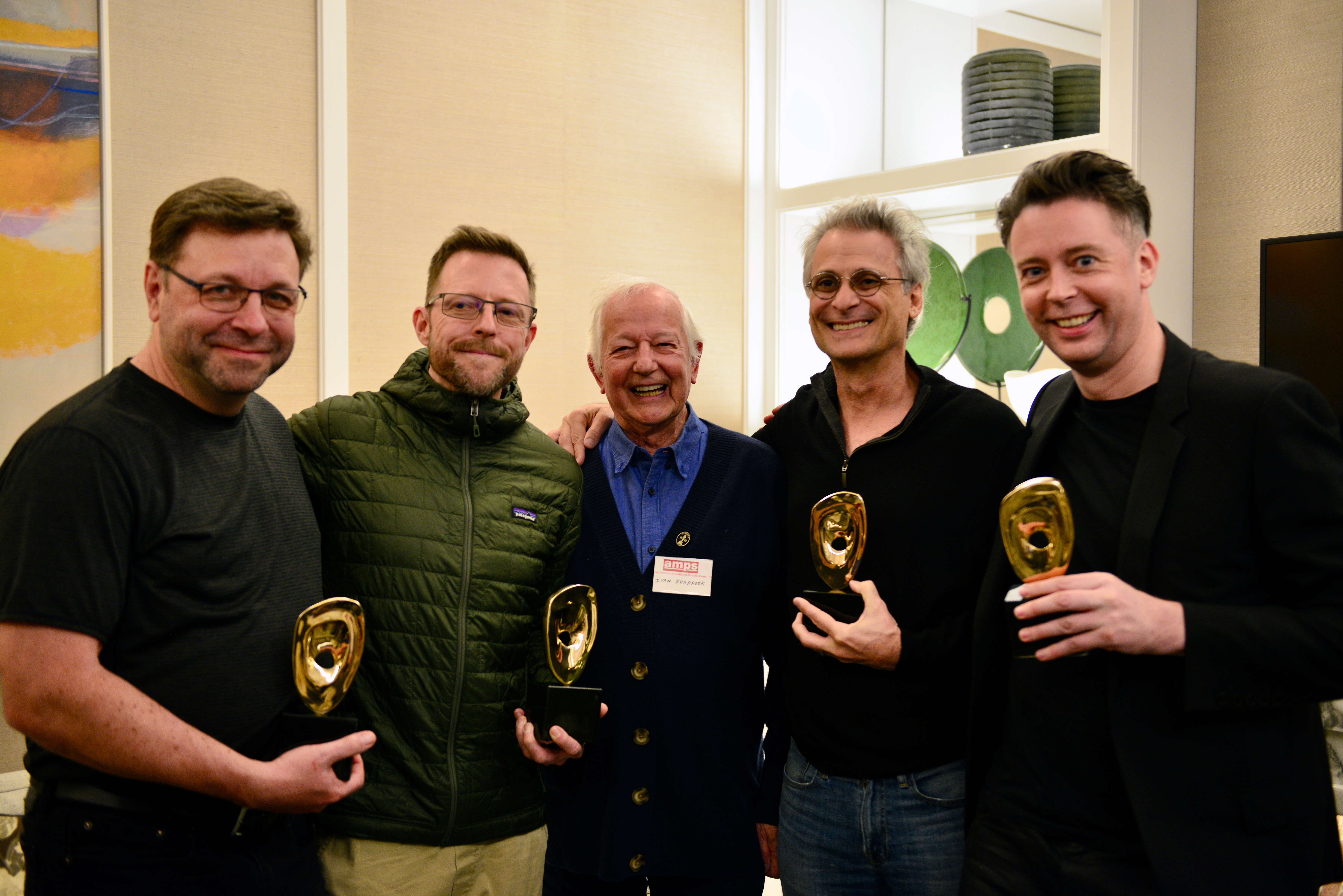 Ron Bartlett, Mac Ruth, Ivan Sharrock
Mark Mangini and Theo Green
NEWS SEARCH
Search all news articles...
NEWS
Some news items are only available to logged in Members.
---
Film Award Winner's Receive Their Trophies
Sunday, 18th February 2018
FILM AWARD WINNERS RECEIVE THEIR TROPHIES
For the second year running AMPS presented the Film Award Trophies to the winners on the same day as the BAFTA Awards Ceremony. AMPS Chair Paul Davies was able to present the prestigious trophies to the winners, Mary Ellis, Tim Cavagin and Julian Slater, in the company of a gathering of AMPS members.

All three award winners were keen to elaborate on how proud they were to be recognised for their work on Baby Driver. Mary said she was "really touched and honoured, and that the track was truly a great team effort among so many departments". Tim added "a truly special film to work on and fantastic to be acknowledged by your peers". Julian paid homage to the director, Edgar Wright, who "thinks about sound and cares about sound". Deep joy to us all who are professionally engaged in Sound!

They went on to expand about some of the insights, teamwork and problems encountered in producing this ground breaking film soundtrack. They all paid tribute to their respective talented teams without whom the award winning soundtrack would not have evolved.

Corinthia Hotel allowed us the private use of their Bassoon Bar, and the event was videoed by Fellow Members Peter Hodges and Brian Simmons. The video will soon be available on the website and for use in AMPS publicity.


AMPS FILM AWARDS are sponsored by DOLBY LABORATORIES