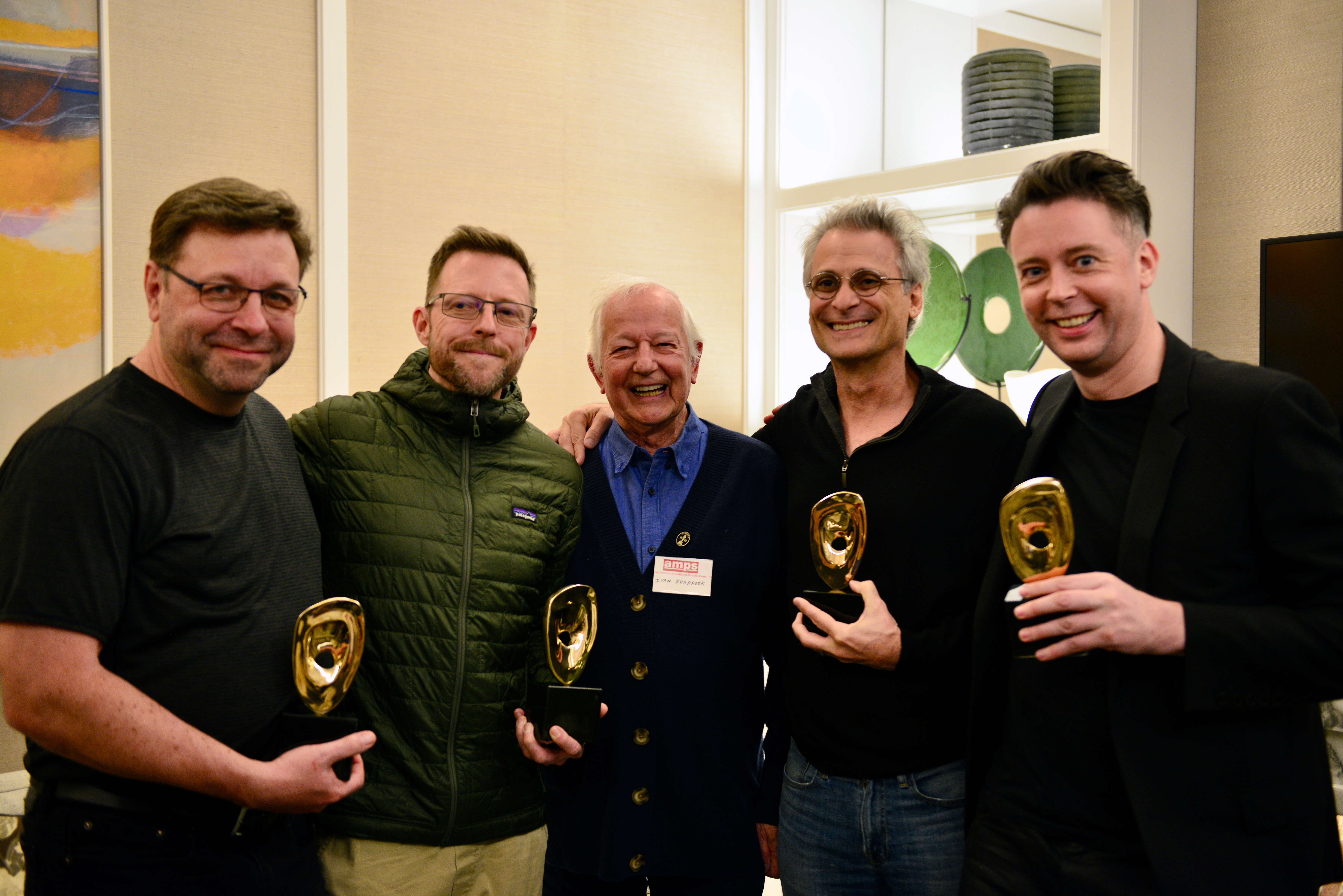 Ron Bartlett, Mac Ruth, Ivan Sharrock
Mark Mangini and Theo Green
NEWS SEARCH
Search all news articles...
NEWS
Some news items are only available to logged in Members.
---
AMPS AWARDS WINNERS ANNOUNCED 2021
SOUND EXCELLENCE HONOURED AND TWO NEW FELLOWSHIPS ANNOUNCED AT PHYSICAL AMPS AWARDS CEREMONY 2021
LONDON, 12th September 2021:
For the first time in two years, The Association of Motion Picture Sound (AMPS) was able to honour its annual awards winners at a physical ceremony which was held on Sunday 12th September at The University of Greenwich. "The Queen's Gambit" scooped the Excellence in Sound for a Television Drama accolade and "Ronnie's: Ronnie Scott and his World- Famous Jazz Club" received Excellence in Sound for a Factual Film. Excellence in a Production Audio Product went to Sound Devices CL 16 Control Surface and Excellence in a Post-Production Audio Product was awarded to Kraken: Dialogue Editor's Toolkit 1.2.

Two new AMPS fellowships were awarded to distinguished Supervising Sound Editor Catherine Hodgson and to Rob Walker, the respected former Chair of AMPS (2018 – 2021) Fellowships are the highest honours AMPS bestows and they are in recognition of outstanding achievement in Motion Picture Sound and individual endeavours to work for, and uphold the aims of AMPS.The winning sound team from "The Queen's Gambit" includes Eric Hoehn, Wylie Stateman, Gregg Swiatlowski, Thomas Wallis and Roland Winke. The winning sound talent line-up from "Ronnie: Ronnie Scott and his World-Famous Jazz Club" includes, Claire Ellis, George Foulgham, Andrew Hewitson, Alastair Sirkett.

AMPS Fellow, Catherine Hodgson was recommended for the AMPS fellowship by legendary Hollywood Film Editor, Sound Designer and Re-recording Mixer, Walter Murch. As ahighly respected Supervising Sound Editor for both film and television drama, some of Catherine's most notable work has garnered a Royal Television Society Award ("The Long Firm" in 2004), two BAFTA Awards ("Our Mutual Friend", 1999 and "Wallander",2010), as well as eight additional BAFTA nominations. Catherine contributed to the "Sound of Story 2016" forum, which was organised by Women in Film and supported by AMPS. Her career has spanned more than 30 years and other project highlights have included "Atonement", "Pride and Prejudice" and "Jane Eyre".

AMPS Fellow, Rob Walker was a popular and unanimous choice to chair the AMPS Council between 2018 and 2021. Rob's tenure saw a welcome expansion of AMPS activities and a powerful initiative to improve diversity in AMPS and the wider sound community, which he approached with energy, pragmatism and skill. He also oversaw the welcome expansion of AMPS awards to include factual films and technical excellence in audio products, plus the addition of Key First Assistants Sound (Boom Operators) and Supervising Dialogue/ADR Editors to the team of talent to be recognised. The Fellowship comes in honour of Rob's effective and responsible leadership of AMPS governing body, and his diligence and invaluable contributions to the organisation, while he still worked his day job – creating professional sound and music.
Commenting on the 2021 AMPS awards, current Chair, Andrew Wilson said:

"It's an honour to present the 2021 awards to such talented and worthy winners. The nominations in all the categories were very diverse and any one of them could have taken the honours. I'm also thrilled to present Catherine and Rob with their Fellowships. Each of them has a fantastic track record in the field of film sound as well as having given so much back to the industry."

The AMPS Awards are sponsored by Dolby Laboratories, Sennheiser and Twickenham Film Studios.