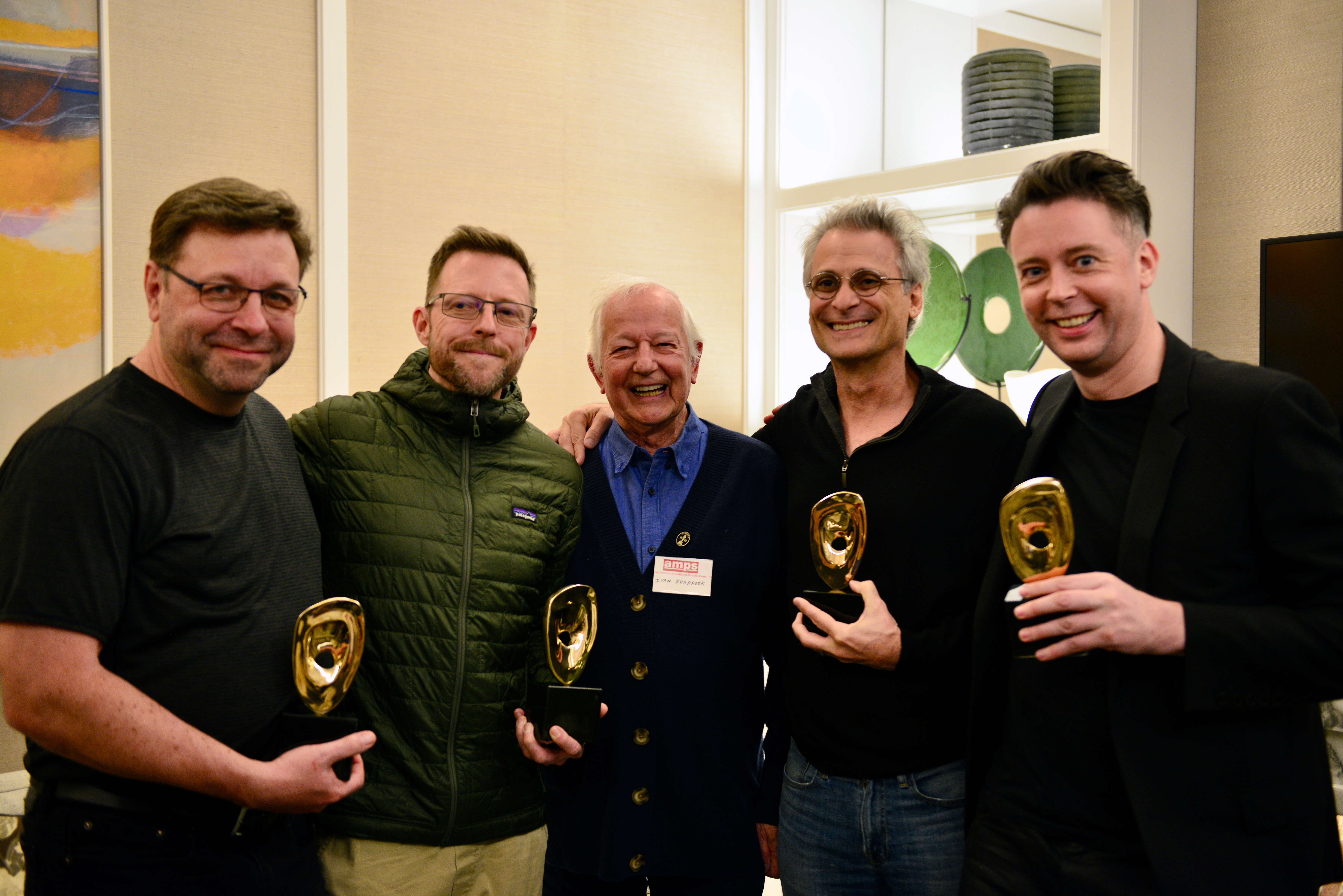 Ron Bartlett, Mac Ruth, Ivan Sharrock
Mark Mangini and Theo Green
NEWS SEARCH
Search all news articles...
NEWS
Some news items are only available to logged in Members.
---
AMPS Award Winners Announced
Wednesday, 22nd January 2014
Glenn Freemantle commented, " What an honour to be awarded the first AMPS Award for Excellence in the Craft of Sound for a Feature Film. This was a great film to work on and with both Alfonso Cuarón and David Heyman, knowing the importance of sound and making it a priority, it allowed us the creativity and also the time to get Gravity sounding as it did. I have a great sound crew and this award is for all of us." The Awards will be presented to the winners at an AMPS 25th Anniversary Celebration event in September. AMPS' Members who have creatively contributed to the winning soundtrack will each receive Certificates of Merit. Five films exhibited in 2013 were selected by an AMPS Awards Committee, from which the three leading sound crew members (Production Sound, Sound Editing and Re-Recording) were nominated for award. A further ballot among all AMPS voting members selected the winning film. The nominees were Tom Williams, Myron Nettinga & John Ross for American Hustle; Chris Munro, Oliver Tarney & Chris Burdon for Captain Phillips; Chris Munro, Glenn Freemantle & Skip Lievsay for Gravity; Peter F. Kurland, Skip Lievsay & Greg Orloff for Inside Llewyn Davis and Danny Hambrook, Frank Kruse & Martin Steyer for Rush. After nomination, Peter Kurland (Inside Llewyn Davis) commented. "This is excellent news and very exciting. I have a great deal of respect for your organization and its members who I have either met or just enjoyed their work. It's quite an honour to have been nominated by AMPS, especially in your first year of giving awards!" Long-time AMPS Sustaining Member, Dolby Europe Ltd acted as headline sponsor for this year's award. Guy Hawley, Senior Director, Cinema Sales and Services said "We collaborated with the AMPS Awards to bring together the very best talent in cinema. This celebrates all of the nominees' outstanding achievements and is a world-class showcase of their dedication to making entertainment sound its best. The competitive entries this year have set the bar high for years to come, and congratulations to the entire Gravity sound team for creating a ground-breaking Dolby Atmos mix." Graham Hartstone from the AMPS Awards Group added, "As a founding member of AMPS, I remember 'awards' being an agenda item at our first meeting. Now, 25 years later, we have realised this ambition. I look forward to AMPS Awards growing in scope and prestige in future years. We are honoured and privileged to welcome Dolby as our major sponsor." The award program was created in celebration of the Association's 25th anniversary in 2014 with plans to expand in future years to include a broader selection of creative sound technicians as well as encompassing television sound and gaming.